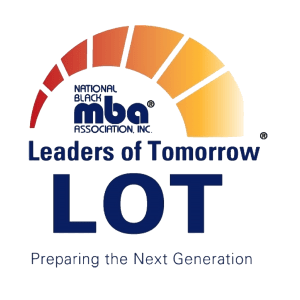 Leaders of Tomorrow (LOT) is an academic enrichment and leadership program serving high school students who demonstrate leadership potential. Nationally, the LOT program has participation from more the 46 NBMBAA chapters in the United States, Canada, and United Kingdom. Students participate in college preparatory programming and learning sessions to ensure a pathway of success in the future.
Our goal is to increase the number of students entering college, especially in business-related disciplines. This program aims to equip the students with tools they will need to succeed. Mentors are professionals from the community who volunteer and interact with the students on a monthly basis.
Mentors and students meet monthly for approximately four hours to focus on developing the Leader's skills in the following areas: professional development, academics and community service. Students are encouraged to channel their intellect and ambitions in a positive manner through workshops, assignments and activities.
The LOT program serves high school students ages 14-18 and partners NBMBAA Austin Chapter mentors with high school students. The program is FREE for high school students who meet the program admission requirements. Students participate in educational programming in the following areas:
College Preparation

Leadership Training

Professional Development and Entrepreneurship

Community Service
Program Initiatives
Monthly Meetings-LOT workshops are held monthly on the 2nd Saturday of each month from September –April. These workshops consist of various education and career related topics.
Field Trips- Leaders visit local corporations as well as participate in community service activities.